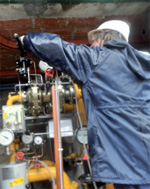 Developing skills and abilities
Training and consolidating professional and managerial skill sets, in a changing scenario, are an integral part of maximising people's potential.
Along with enhancing people's job opportunities, training serves as a support to organisational integration and change management. These activities are based on an ongoing partnership with the various internal units in order to encourage the design and continual improvement of training courses, making them more efficient and consistent with the requirements of people, professional families and corporate objectives.
LA10
| | | | |
| --- | --- | --- | --- |
| Training data | 2009 | 2010 | 2011 |
| Hours of training provided | 154,010 | 148,824 | 187,134 |
| ...of which executives | 3,143 | 3,734 | 2,369 |
| ...of which managers | 15,072 | 13,358 | 13,840 |
| ...of which office workers | 84,967 | 79,526 | 102,103 |
| ...of which manual workers | 50,828 | 52,206 | 68,822 |
| Number of participants | 15,484 | 13,750 | 16,437 |
KPI description

KPI date

Pre-set
target

Target achieved
in 2011

Sector

Activity
Status

Average hours
per employee (No.)

2010

Achieve 24 in 2011

30

Snam group

Involvement of
corporate population (%)

2010

Achieve 80% in 2011

90

Snam group
Managerial development activities continued in 2011, basically in continuity with the previous year but with differentiated interventions aimed at specific needs, identified due to segmenting the corporate workforce both horizontally by role and professional family, as well as vertically, i.e. by level of responsibility.
These activities have also been integrated into the performance evaluation system and into the individual potential and ability evaluation.
Other initiatives have concerned specific corporate population groups. University graduates just entering the workforce have been involved in a trainee plan, which will be carried out over a two-year time period, aimed at encouraging knowledge of the business and at facilitating their integration into the corporate fabric. For managers under 40, an initiative known as "360° Outlook" has been prepared, with the objective of increasing their managerial skills from the standpoint of self-development.
LA11
2011 training initiatives

Recipients

Training courses were carried out on "The economic and managerial rationales of regulated markets", in cooperation with the Politecnico di Milano.

Managers and recently hired university graduates

Continued commitment to professional training for developing and consolidating specialised technical know-how and training in support of local reorganisation for manual workers.

Manual workers

More than 30,000 hours of HSE training were provided. The topics dealt with in specific training courses, designed and implemented internally, included: "Safe Driving", "The Role of the Safety Officer" (Legislative Decree No. 81/08) and Implementing Management Systems.
In terms of the environment, a new high-impact development has been the introduction of the new waste traceability system (SISTRI), which has required a significant widespread training initiative throughout the country.

Managers, office workers, technical personnel and manual workers
(4,913 participants)

SO3-HR3 Continued training activity on the requirements of the Organisation, Management and Oversight Model pursuant to Legislative Decree No. 231/2001, in a targeted anti-corruption course aimed at disseminating the guidelines adopted by the Company (more than 12,900 hours).

Managers and office workers
(3,231 participants)

Continued training in support of the "Project for insourcing maintenance activities and implementing the new SAP system".

Stogit personnel
(more than 50,000 hours of training)

Explained the procedure approved by the Board of Directors of Snam Rete Gas and implemented by the subsidiaries on provisions regarding related-party transactions, governed by Consob Regulations.

Involved 200 people affected by the rules

Specific training initiatives were implemented to develop managerial skills (see below).

Executives and managers

Offered training in support of the introduction of Work Force Management. Courses were also held on the New Mapping Update, and courses were designed on the New Organisational Model for operational activities.

Mainly technical personnel in distribution

Implemented a training course project on middle manager skills, the Peak Performer Model (see box below), aimed at maximising and disseminating existing best practices in the group's different business areas.

Technical operations managers (more than 130 people) working nationwide

Held events for providing information on and sharing corporate strategies. In particular, a workshop was organised to ensure awareness of the business context in expectation of the implementation of the Third European Directive and illustrate the core points of the strategic plan.

Executives
THE PEAK PERFORMER MODEL FOR OPERATIONS MANAGERS
Launched in early 2011, the "Peak Performer Model" is a project carried out in cooperation with Towers Watson.
Peak
Performer
Project

This is a project designed to allow for active participation both by managers, whose responsibility for employee development is key, and by employees themselves to clarify their role in the development process and target certain behaviour that has emerged as critical, all by interacting and working as a group.
It is a methodology with the objective of maximising and disseminating existing best practices, identifying a set of distinctive behaviours, common across the transportation, distribution and storage businesses; the commitment to disseminating and inculcating these behaviours in the organisation, and sharing a platform of operating methods and values, is synonymous with building a "culture of development", a group culture to be extended to the entire

Project
goals

improving performance;

encouraging corporate integration (through personal acquaintance, team work, meetings and discussions among different professionals).

People
involved

Some 150 people are involved, including executives (district heads) and operations managers (centre/plant heads) from Stogit, Italgas and Snam Rete Gas operations management.

Project phases
The project, broken down into
different phases, is currently
under way and will continue
for a good part of 2012

directives and guidelines defined and agreed upon by a working group including executives, HR managers and consultants;

completed the initial phase of the project with individual interviews and focus groups involving all interested parties in order to identify a list of behaviours implemented in the main phases of the business process;

held group training and individual coaching events, which made it possible to obtain key methodological models and to support executives in becoming for all practical purposes coaches for their own employees thanks to development plans prepared and shared with operations managers, as the basis for defining and implementing specific actions in the near future.

Results
(as at 2011)

The Peak Performer model was applied to information of a qualitative nature, cross-referenced against more strictly quantitative data deriving from operating results, giving rise to the identification of a limited number of "win-win behaviours".
Incentive and remuneration systems
LA12
Performance appraisals assess the contribution made and the results achieved by individual staff members over the course of the year and are a way of communicating and involving them in meeting targets.
For managers, a management review is carried out each year, which enables accurate monitoring of their performance using consolidated and common criteria.
In 2011, the competitiveness and fairness of compensation practices for managerial and professional personnel were audited and optimised following the update of the job evaluation begun in 2010.
The compensation system is adjusted periodically using criteria based on meritocracy and internal fairness. It is particularly aimed at ensuring recognition of the results achieved by an employee, the quality of professional support provided and the employee's potential for development.
Alongside the policy of meritocracy, related to roles and responsibilities, a variable incentive system for managers and executives has been built up over the last few years in connection with performance appraisal through the allocation of specific individual charts derived from the corporate ones. In 2011, this appraisal involved all executives and their commitment to developing business activities, with a particular focus on sustainability.
This is demonstrated by the allocation of individual sustainability targets to nearly 100% of the executives. Meanwhile, as far as managers are concerned, 38% were assigned an individual target associated with sustainability issues.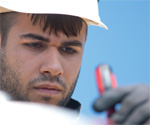 For young graduates, we began studies aimed at defining differentiated compensation policies on the basis of performance and professional and managerial ability in order to support the motivation and retention of our most talented youngsters.
We also continued our commitment to improve the system of benefits.
As in previous years, as part of our internal communication initiatives, we extended our Total Reward Statement (an itemised breakdown of an individuals overall pay packet) to all managers.
All jobs at Snam Rete Gas S.p.A., GNL Italia and Stogit are subject to analytical and overall evaluation of complexity, responsibility, experience and autonomy (CREA) factors, as specified by the national collective labour agreement for the energy and petroleum industry. 395 evaluations were carried out in 2011. All evaluation processes are formalised and involve feedback sessions that are an important opportunity for discussion and communication between manager and employee with a view to gathering information that can be used to draw up new actions for developing and maximising the potential of our people.
A collective incentive programme is used for all group companies: the "Profit-sharing scheme" introduced pursuant to the respective national collective labour agreements. This scheme is based on company profitability (return on average capital employed, or ROACE) and productivity, as measured in relation to annual targets agreed between the Company and union representatives.
Diversity and equal opportunities
LA13
In line with the Code of Ethics and the "Our people" policy, Snam respects each person and offers equal opportunities in all aspects of employment, including recruitment, training, pay, promotion, transfers and termination, avoiding any form of discrimination which may arise from differences in gender, age, health, nationality and political or religious beliefs.
2009

2010

2011

| | |
| --- | --- |
| * | These figures reflect the characteristics of our business, which demands particula+Z(43)Sr availability for shift work and continual travel and is therefore not suitable for some candidates. "Manual workers" include men only. |

Women in the workforce (%)

9.7

9.6

10.5

Women hired * (%)

23

12

24
PERCENTAGE OF WOMEN PRESENT PER RANK (%)
Enlarge image


We offer more favourable maternity provisions than those required by law, maintaining the company benefits provided for all staff. Maternity pay during the mandatory leave period is 100% of the salary for the month prior to commencement of leave (compared with 80% required by law).
LA15
In 2011, all personnel taking parental leave returned to work.
A guide has been published on the intranet for both biological and adoptive parents with a view to raising awareness about their rights and highlighting the Companys dedication to parents.
Thirty-two workers (male and female) took parental leave in 2011.

LA13
Snam promotes generational turnover by training new employees to support the technological changes that will be necessary to deal with the introduction and development of new IT systems.
The group employs 319 disabled people, whose development programmes focus on training and integration into corporate processes.
There is not a significant presence of ethnic and linguistic minorities in our workforce, partly due to the fact that Snam operates only in Italy.
LA1
DEMOGRAPHIC DIVERSITY: EMPLOYEES PER AGE BRACKET
Enlarge image

Wellbeing among personnel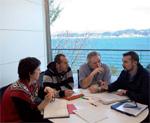 Snam offers employees and their family members a varied system of initiatives intended to enhance their wellbeing, improve their work/life balance and improve the quality of the work environment.
Over the years, a system of opportunities has been developed which includes:
insurance cover for work and non-work accidents, offering more than the statutory benefits;
supplemental health care: provides reimbursement for expenses incurred for health and hospital services at public and private facilities;
employee access to supplemental pension funds, which are funded to a great extent by company contributions
LA3
Snam has adopted a welfare system using a multi-year plan involving the activation of strands of services in the areas of "family", "health" and "other agreements".
WELFARE PROJECT
Intervention area

Interventions

Family

Summer camps in the city for children and adolescents, created to assist families during school holidays

Summer beach and mountain outings

Themed outings for adolescents focusing on English language studies, sports and respect for nature

Eni 0-6, a centre of excellence in terms of both its teaching and its architecture, comprises a crèche and a nursery school that cater for employees' children aged zero to six years, allowing parents to have a better work/life balance (operational at San Donato Milanese since September 2010)

Snow Trophy: the winter sporting event that involves Eni employees and their families in a weeklong programme of ski competitions. 126 people from Snam participated in the 2011 edition

Health

Promoting health:


early cancer detection programme in cooperation with the Italian League against Cancer and with participating health facilities, and agreements with some health centres on hospital and outpatient services and the flu vaccination campaign

wellbeing Programme: this offers the opportunity to engage in physical activities at selected and approved sports centres in the vicinity of the office buildings, at preferential membership rates

Meals


Snam is committed to providing high quality in corporate catering, using first-rate raw materials and taking care in the preparation process to keep nutritional value intact. The commitment to guarantee people continually evolving service increasingly focused on wellbeing has also led to the restructuring of some corporate eateries, such as those in Turin (Italgas), Crema (Stogit) and San Donato Milanese (Snam). Take Away is another attractive option, combining wellbeing with the chance to save time by allowing employees to reserve and pick up dishes to eat at home

Other agreements

Snam personnel are offered preferential terms for obtaining personal loans and credit cards, buying used cars, hiring cars, buying name-brand products or booking a holiday. Some agreements also offer a chance to take out insurance

In terms of culture, employees have the opportunity to enjoy free or reduced-cost tickets to visit museums and exhibits, attend concerts and operas, and attend international festivals, such as MITO Settembre Musica, held in Turin and Milan in autumn 2011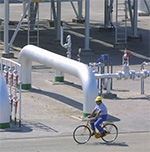 As part of its respect for the environment and limiting CO2 emissions produced by personal travel and in order to identify the most suitable solutions for effectively meeting its employees' mobility needs, the Company offers the Mobility Management area. It was created to encourage employees to regularly use sustainable means or methods to travel between home and work, and offers a chance to become informed about and acquire passes for public transportation and bike sharing and car sharing schemes. At San Donato Milanese, the Company also makes available a shuttle service from the metropolitan train station to the worksite.
In 2011, as every year, employees who have provided 25 years of service to the Company were awarded a prize and a gold medal, attesting to their individual contribution to the Company's growth. In 2011, 452 Snam people received awards.
Industrial relations
LA4
Snam guarantees all workers the right to freely express their thoughts, join associations and engage in union activities. National collective labour agreements apply to all Snam workers (for the transportation, storage and regasification sectors, the energy and petroleum industry agreement applies, and for distribution, the gas and water agreement applies).
In 2011, 53% of employees were members of a trade union. Special meeting spaces are provided for union activities to be engaged in, and workers enjoy dedicated leave, as provided for by current regulations and the applicable industry agreement. All workers can submit topics of interest to them to the unitary union representative bodies (RSU), which are periodically replaced through elections.
In 2011, dealings between Snam and the trade unions focused, on the one hand, on developing group integration processes, dictated in particular by the implementation of the Third European Directive and, on the other hand, on the entry into force of the more recent regulations on distribution, which by introducing new rationales for assigning concessions and specific occupational requirements (the "solidarity clause") will govern the subject in a highly innovative manner.
From that standpoint, in a dialectical climate of intense debate, the following, among others, have been discussed both nationally and locally and have been the subject of an agreement:
- the acquisition of the ICT and Administrative Services business units of Eni S.p.A. and Eni Adfin S.p.A., respectively;
- the group's reorganisation, which saw the transfer of transportation activities to newly formed company Snam Trasporto, the reallocation of some activities to Stogit, again by business unit transfer, and the creation of Snam S.p.A., with corporate functions.
At Italgas, an agreement was reached on the new operating organisation, aimed at better overseeing the territory in keeping with the entry into force of the abovementioned regulations..