Since its listing on the Stock Exchange in 2001, Snam has always sought to maintain transparent relations with the financial community by expressly communicating its objectives and the results it has achieved.
To keep the quality of these consolidated reports high, each year all the benchmark best practices are adopted to allow shareholders and the financial market to fully evaluate the drivers for the creation of value at the Company. Among these, it is worth mentioning:
roadshows (20 in 2011) aimed at meeting shareholders and institutional investors in the largest European and North American financial markets;
one-to-one meetings between management and investors (140 in 2011, including about 15 at the San Donato Milanese site), in addition to which there are group meetings and sector conferences;
conference calls at the time of disclosure of the corporate results (preliminary annual results, half-yearly and quarterly results), including analysts who publish research on the share.
KPI description

KPI date

Pre-set
target

Target achieved
in 2011

Sector

Activity
status

Number of meetings with socially responsible investors out of total meetings (%)

2010

Achieve 33%
in 2011

40

Snam group

Increase the number of meetings with institutional investors (No.)

2010

Hold 176
in 2011

190

Snam group

Hold Investor Day events

2010

Hold 1

1

Snam group
During 2011, management also took part in round-table meetings, seminars and conventions on subjects relating to the utilities industry, stock markets and corporate governance with specific presentations on these topics. These and all other information of interest to shareholders and investors, including the relaunch documentation and quarterly/half-yearly reports, both in Italian and in English, are available in the Investor Relations section on the corporate website, www.snam.it.
Performance of Snam shares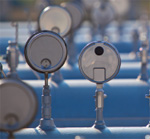 Snam's stock, which is included in the FTSE MIB Italian index, and also in leading international indices (Stoxx Europe, S&P Europe and MSCI Europe), ended 2011 at an official price of €3.39, down 9.1% compared to the price of €3.73 recorded at the end of the previous year. The stock's annual performance was affected not only by the abovementioned negative trend in Italian and European financial markets, but also, in particular, by the extension in the second half of the year of the "Robin Hood tax" to regulated companies in the Italian energy sector, which meant increased tax rates.
During the year, the stock nevertheless outperformed the trend in the European utilities sector (Stoxx Europe 600 Utilities: -16.6%), buoyed by interest, even in contexts of growing country risk and high volatility, in shares of companies with sound business fundamentals and long-term earnings and cash flow visibility.
In 2011, on the Borsa Italiana electronic stock exchange, around 2.4 billion Snam shares were traded, with average daily trading volumes of approximately 9.3 million shares, down from 11.5 million in 2010.
SNAM - COMPARISON OF PRICES OF SNAM, FTSE MIB AND EURO STOXX 600 UTILITIES
Enlarge image