Sustainability is an integral part of the business model of Snam and is a guiding element in making strategic and operational decisions for the Company, and at the same time it is instrumental in ensuring responsible growth over the medium and long term.
This has enabled Snam's shares to be included, over the past few years, in the main international stock exchange sustainability indices, consequently increasing the Company's visibility among socially responsible investors and with the entire financial market in general.
In 2011, Snam shares joined the Stoxx Global ESG Leaders indices, a new group of indices based on a transparent performance selection process, in terms of sustainability, of 1,800 listed companies worldwide. The indices are managed by STOXX, owner of some of the most important international stock indices, such as the STOXX50. Snam's shares have been included not only in the global index, but also in two sub-indices on the environment and governance. Overall, 14 Italian companies are included in the index.
TREND OF THE SNAM STOCK AND PRINCIPAL ETHICAL INDICATORS
Enlarge image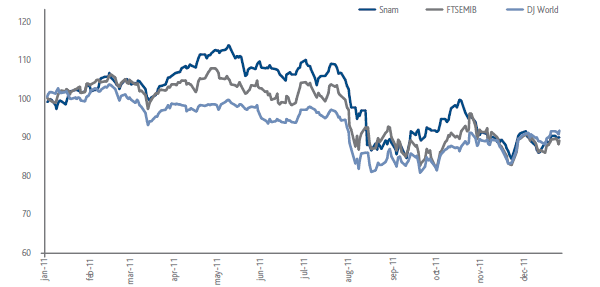 SUSTAINABILITY INDICES
Enlarge image