Snam issued more than 3,500 contracts in 2001, with approximately 2,000 awardee suppliers and total orders of approximately €1,695 million. Of the orders, 95% were concentrated in Italy, where they were distributed throughout all of the Italian regions, except for Sardinia, and the remainder in Europe (4.9%) and outside of Europe (0.02%). The most significant merchandise categories were steel tubing and fittings, of which approximately 45,000 tonnes were purchased in 2011.
EN1
As a result of the Legislative Decree implementing the Third Energy Package, Snam has adjusted its organisational structure and begun updating the procedural systems for the procurement of goods and services.
The new organisation provides for a Supply Chain function at Snam Rete Gas, which carries out centralised procurement planning and control activities, supplier qualification, services for Procurement, and cross-group merchandise procurement services.
The individual operating companies may source their supplies independently for goods and services specific to their activities, provided that they observe the guidelines identified by the centralised function.
EC6
GEOGRAPHICAL BREAKDOWN OF PROCUREMENT (%)
Enlarge image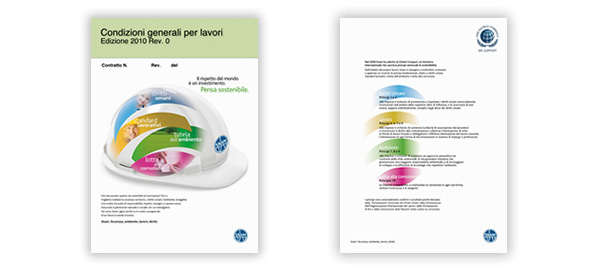 Transparency in managing suppliers and purchasing processes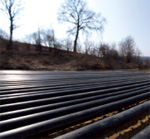 Snam adopts a procurement policy that promotes transparency, impartiality and responsibility while observing free competition and paying special attention to local needs, as befits a company that has a nationwide presence and strong links to the various local areas in which it operates.
These principles translate into a management model which, at the strategic level, provides for the production and updating of a multi-year plan for procurement activities which identifies long-term economic and financial performance, operational efficiency and service level goals.
From a more operational standpoint, the model translates into procedures aimed specifically at improving the process of scouting out new suppliers and guaranteeing them that the selection process, both in the qualification and in the contract award process, ensures equal opportunities for all once the required qualitative standards are met. The inclusion of a new entity in the list of suppliers is subject to passing the different preliminary documentary and technical evaluation phases, in keeping with merchandise criticality levels. The evaluation is performed with the systematic support of advanced computer tools in order to ensure that the information gathered is traceable and comparable.
KPI description

KPI date

Pre-set
target

Target achieved
in 2011

Sector

Activity
status

Works suppliers
(criticality A and B) ISO 9001 and ISO 14001 certified (%)

2010

Achieve 100%
in 2013

97.8

Snam group
Other parts of the procurement process governed by specific procedures are the awarding of contracts and the management of "open" contracts. Finally, the services of the suppliers used are monitored with "Vendor rating" procedures that assign a score based on gathering and organising feedback prepared by the technical units. During the year, 114 suppliers were monitored.
Extending sustainability principles to the supply chain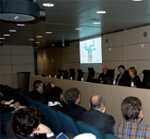 Our activities have always emphasised respect for and protection of human and labour rights, environmental protection and the search for a sustainable development model.
It is our wish to share these values with all our counterparties. In this context, we ask suppliers to comply with Model 231 and with the principles of the Code of Ethics, to adhere to work safety, health and environmental protection regulations and to comply with international standards on labour rights.
In 2011, Snam organised the "Suppliers' Day for Sustainability", a workshop on two different days involving speakers from corporate management and a significant sample of suppliers grouped into two types of supply of goods, works and services (75 participating companies: 35 for goods and 40 for works and services). With this initiative, Snam wished to disseminate and discuss the concepts of safety, transparency, attention to the community, respect for local areas and enhancement of the licence to operate, indispensable values around which to cement a responsible and fair relationship with suppliers. The "Suppliers' Day for Sustainability", attended also as speaker by a representative of the Global Compact Network Italy, was just an initial meeting to consolidate increasingly aware cooperation between the Company and its suppliers. The workshops also offered an opportunity to gather structured feedback on needs and wants, and at the same time to reflect on suitable initiatives from the standpoint of continual improvement.
Since early 2012, all companies in the Snam group have disclosed the ten principles stated by the Global Compact to all suppliers with the intention of disseminating the values contained in them.
The "Suppliers' Day for Sustainability": questionnaire and feedback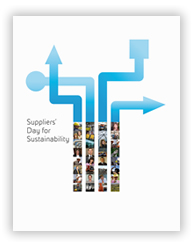 During the workshops, with the objective of identifying the level of awareness of social responsibility and sustainable development issues and bringing to light any trends or instances among companies in the supply chain, a questionnaire was distributed to all those present. The questionnaire aimed to investigate suppliers' familiarity with sustainability issues and their perception of Snam's commitment to sustainability, and to evaluate the areas of greatest interest for future initiatives.
Feedback gathered
In terms of macro sustainability issues (Environment, Society and Economy), despite good awareness of environmental issues, 93% of the interviewees would like to see greater investments in training, seeking to integrate the three macro areas into a more complete vision of sustainability. Of the interviewees, 34% seek integrated training on sustainability, while 22% consider investments to be necessary in social and economic areas and 17% in environmental and social areas.
Nearly all of the interviewees said they were in favour of the possibility of carrying out support activities, suggesting six different initiatives to develop:
periodic audits and controls evaluating companies' real and actual sustainability;
training courses and seminars (online or at the individual companies) that help people to keep abreast of sustainability issues and tools;
procedures, directives, and guidelines that can support supplier companies on a track toward growth and compliance with the issues in question;
periodic meetings between companies to share experiences;
improved communications initiatives and greater supplier involvement by Snam;
introduction of rewards and incentives for companies that behave sustainably.