The natural gas moved through the storage system in 2012 totalled 15.63 billion cubic metres, up by 0.32 billion cubic metres, or 2.09%, compared with 2011. The increase was attributable mainly to higher injections (+0.65 billion cubic metres; +8.35%) to replenish stocks due to the emergency weather conditions in the first quarter of 2012, which were partially offset by lower withdrawals from storage (-0.33 billion cubic metres; -4.38%).
Total storage capacity at 31 December 2012, including strategic storage, was 15.7 billion cubic metres (+0.7 billion cubic metres, or +4.7%), including 10.7 billion cubic metres in available capacity (10 billion cubic metres in thermal year 2011-2012), 4.5 billion cubic metres in strategic storage (5 billion cubic metres in thermal year 2011-2012) and 0.5 billion cubic metres in capacity made available due to reduced strategic storage.
This capacity will be allocated as provided for in Legislative Decree 93 of 1 June 2011, in accordance with the procedures defined by the Ministerial Decree of 15 February 2013 concerning measures on modulation storage, extraction of natural gas, auction procedures and provisions on the safety of the national natural gas system.
Under the regulatory regime preceding the current rules governing balancing, some users of the storage service made strategic gas withdrawals without replacing the amounts withdrawn or paying the fees set out by the Authority, accruing a significant debt towards the Company. Considering the current regulatory framework (see Resolution ARG/gas 119/10, Article 10, paragraph 5 in Annex A), which leaves the storage company in a neutral position with regard to the effects of the withdrawal of strategic gas by users, against fees for the use of strategic gas not replenished, a liability of equal amount was recognised15.
(% of total investments)
Enlarge image


NATURAL GAS MOVED THROUGH THE STORAGE SYSTEM
(billions of m3 )
Enlarge image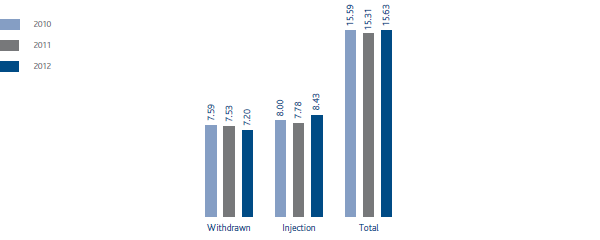 15 In connection with withdrawals by Stogit users of strategic gas that was not subsequently replenished by said users within the time frame provided for by the Storage Code, Stogit has launched a number of actions against the users in question since 2011, including legal proceedings. Specifically, in order to recover the sums owed to it, the Company has requested and obtained two injunctions (for one of which, in the proceedings brought in opposition, provisional enforceability was granted), brought legal proceedings aimed at obtaining an order for payment and initiated summary proceedings for the replenishment of the gas withdrawn, for which a merit hearing is under way. This measure could not be pursued in light of the presentation by the user of an application to initiate an arrangement with creditors, which was accepted by the Court on 24 September 2012.