Development and integration of European gas infrastructure
Interconnector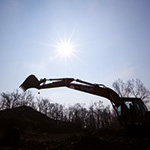 On 3 August 2012, Snam and Fluxys completed their joint acquisition of the equity interests held by eni in Interconnector (UK), Interconnector Zeebrugge Terminal and Huberator, which respectively manage the two-way underwater pipeline between the UK (Bacton) and Belgium (Zeebrugge), the Zeebrugge compression station for the Interconnector pipeline and the trading platform for the Zeebrugge Hub. The transaction was worth a total of €145 million.
On the same date, Snam and Fluxys signed a memorandum of understanding for developing and marketing reverse flow capacities from south to north between Italy and the UK. With this agreement, both companies enhanced their cooperation in the spirit of the EU's Third Energy Package for further integration of the European gas market.
On 26 September 2012, Snam and Fluxys completed their joint acquisition of E.ON's 15.09% equity interest in Interconnector UK for a total of €117 million.
With the completion of these transactions, Snam and Fluxys acquired the following equity interests via their two newly created 50/50-owned joint ventures, Gasbridge 1 B.V. and Gasbridge 2 B.V.:
31.5% of Interconnector UK Ltd;
51% of Interconnector Zeebrugge Terminal S.C.R.L.;
10% of Huberator S.A., a subsidiary of Fluxys.
TIGF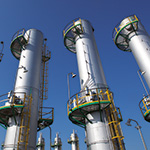 Following a bidding process that began in 2012, on 5 February 2013 Total granted exclusive negotiating rights to special purpose vehicle (SPV) Société C29, owned by Snam (45%), by an associate of Singapore's GIC sovereign wealth fund (35%) and by an associate of France's EDF (20%), for the acquisition of Transport et Infrastructures Gaz France (TIGF) on the basis of a binding offer submitted by the SPV on 4 February 2013 and guaranteed by its shareholders on a pro-rata basis. The offer for 100% of TIGF's shares values the business at around €2.4 billion. Total will be able to complete the transaction only when:
(i) employee consultation processes under French law have been concluded; (ii) approval has been obtained from the competition authorities and granted pursuant to French laws on foreign investors and on the exercise of storage activities; and (iii) other necessary local procedures have been completed.
TIGF is Total's gas transportation and storage business in the south-west of France. Based in Pau, it employs more than 500 people and manages a network of gas pipelines stretching over around 5,000 km and two storage facilities (also in the south-west of France) with a combined working gas capacity of 2.7 billion cubic metres.
Development in Italian gas distribution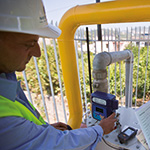 On 11 December 2012, Italgas and AcegasAps signed a framework agreement for the creation of a joint venture to manage natural gas distribution activities in north-east Italy. The agreement is a step forward from the memorandum of understanding signed on 24 April 2012.
The agreement provides for AcegasAps and Italgas to acquire from eni respective stakes of 20% and 50% in the share capital of Isontina Reti Gas, a gas distribution company operating in the province of Gorizia with around 60,000 customers, giving each a stake of 50% (AcegasAps already owns 30%). The agreement also provides for the following subsequent contributions:
from AcegasAps, a business unit comprising the plants and concessions of 13 municipalities in the provinces of Trieste and Padua, including the two provincial capitals, with around 270,000 users as well as core assets and resources;
from Italgas, a business unit comprising the plants and concessions of 42 municipalities in the provinces of Trieste, Pordenone and Padua, with around 145,000 users.
These contributions will see the ownership structure adjusted so that AcegasAps and Italgas respectively hold 51% and 49% of the share capital.
The transaction is subject to the approval of the Competition Authority and to the conclusion of loan agreements covering the financial liabilities.
The new company, for which Italgas will provide operating services by optimising performance and achieving economies of scale, will be Italy's seventh-largest operator by user base, with a presence in six of the areas established by the reform of the gas distribution market.