SO9-SO10
In order to develop new establishments, besides technical and economic feasibility criteria, Snam adopts procedures that meet stringent environmental compatibility and safety assessments.
Assessments of the effects on the surrounding environment concern all phases of a project's life cycle: location, design, execution, operation and decommissioning. These assessments are made as part of the Environmental Impact Assessment (EIA), after which the administrations in charge, both centrally and locally, issue the authorisations provided for by current regulations.
With regard to developing the network of gas pipelines, which represents the most recurring and significant event, in the design phase, the path is chosen from among different alternatives, seeking to avoid or reduce to the minimum necessary the network's passing through areas of significant natural or cultural interest, archaeological areas, geologically unstable areas and anthropised areas or those in which new residential settlements are expected.
In the construction phase, in special cases, procedures and technologies are used, consistent with technical feasibility, which reduce interference with the surrounding environment, such as reducing the breadth of the work area, minimising provisional worksite infrastructure and trenchless execution techniques (tunnels and micro tunnels), as alternatives to traditional excavation. Once placement is done, accurate environmental restoration activity is carried out so as to return the land to its original conditions.
In the decommissioning phase, infrastructure is removed by agreement with the relevant authorities. In some cases, in order to safeguard the biodiversity reconstituted thanks to restoration interventions, the possibility of keeping piping underground after it has ceased to be active, thus avoiding additional worksite activities, is evaluated.
ENVIRONMENTAL IMPACT ASSESSMENT DECREES OBTAINED DURING THE YEAR
| | | | | |
| --- | --- | --- | --- | --- |
| Name | Power (MW) / Length (km) | Regions affected | Jurisdiction | Date of decree |
| Project pilot injection CO2 in the storage deposit in Cortemaggiore | | Emilia Romagna | State | 15-04-2011 |
| Sulmona-Foligno pipeline and Sulmona compressor station | 3x11 - 170 | Abruzzo, Lazio, Marche, Umbria | State | 07-03-2012 |
| Melilli - Bronte pipeline | 106 | Sicilia | State | 29-03-2011 |
| Zimella - Cervignano pipeline | 170 | Veneto, Lombardia | State | 29-03-2011 |
| Foligno - Sestino pipeline | 114 | Umbria, Marche, Toscana | State | 16-05-2011 |
| Flaibano - Istrana pipeline | 87 | Friuli Venezia Giulia, Veneto | State | 11-11-2011 |
| Sapri pipeline | 12 | Basilicata | Regional | 16-03-2011 |
| Viggiano - Moliterno pipeline | 5 | Basilicata | Regional | 08-11-2011 |
EIA APPLICATIONS PRESENTED IN 2011 TO THE MINISTER OF THE ENVIRONMENT AND CULTURAL HERITAGE
Name

Regions
affected

Date of
submission

Project for increasing maximum operating pressure of gas storage deposit in Sergnano

Lombardia

04-05-2011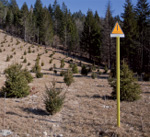 The infrastructure sustainability concept that Snam promotes at all levels also includes socioeconomic evaluations associated with the execution of new works. In 2011, on an experimental basis, Snam launched the application of "Social Impact Assessment" tools and methods, which are widely used in other contexts and countries and which make it possible to deal with these issues systematically by specifically evaluating quantitative and "measurable" impacts of an economic, demographic and labour nature.
The application of Social Impact Assessment methods
At the "Malborghetto-Bordano" methane pipeline, the stakeholder satisfaction detection method was applied, which is provided for in the Snam Social Impact Assessment model. The stakeholders affected underwent a survey on 4 subject areas, evaluating the construction and operation phases separately: environment and landscape, relations with Snam, effects on the local economy and impact on daily life.
The questionnaire was administered in different ways: performing the interview in person or by phone, and sending it by regular mail, with a response rate of 59.6% in the former case and 21% in the latter. Questionnaire responses provided precious information for evaluating how Snam operates in local areas and for identifying areas for improvement on which to intervene. By using the NPS (Net Promoter Score) methodology, supported by a section with questions for more specific in-depth technical information, it was also possible to perform international benchmarking in the sectors in which Snam appeared as "best in class" according to different measurements.
Enlarge image