These relations are based on a corporate culture that has always sought to express the values of sustainability and corporate responsibility in the best possible way, to make them an integral part of strategic thinking and corporate management: they help to prevent and manage risks and, at the same time, can create value for stakeholders by taking practical action.
From this starting point, Snam has begun a review of its value creation processes, both for the company itself and for its stakeholders, focusing on a new way of expressing sustainability, innovative and diffused – a Sustainability 2.0 – that, with a proactive approach, can be an engine for value creation, responding to the Company's development plans and the social and environmental requirements of the regions and communities in which it operates.
COMMUNICATIONS AND MEDIA
In the context of stakeholder relations, Snam's communication and media presence play a key role that is relevant to all areas of business. Snam has a presence in all communication media, including new media, and aims to maintain an open, balanced and transparent approach and to offer valuable content.
In particular, in early 2012 the group completed a revamp of its web identity, putting nine fully upgraded internet sites online. The Company has continued to improve the usability of these sites and to offer maximum accessibility and transparency in terms of information on the holding company and the operating companies.
The high standard of the work done was recognised with the 2012 Interactive Award in the Energy category. Another significant result was achieved in the area of communication to financial stakeholders, with inclusion on the shortlist in the "major listed companies" category for the Oscar di Bilancio prize, created by FERPI (Federazione Relazioni Pubbliche Italia).

International prize for snam.it
The Interactive Media Council is a non-profit US organisation that rewards the best websites in the world in the respective categories, with the aim of promoting the adoption of standards of excellence.
With an overall score of 477 points out of a possible 500, Snam.it was named as best website in the world in its area of activity, for having shown "excellence in all criteria of judgement" according to the voting panel, including design, usability and innovation, and having achieved "a very high level of planning, execution and professionalism".
In 2012 Snam was the subject of approximately 1,000 articles in the national press on various themes, the vast majority of which related to corporate development. The content and tone of these articles was judged to be positive and neutral in 98% of cases.
BREAKDOWN PRESS ARTICLES BY TOPIC (%)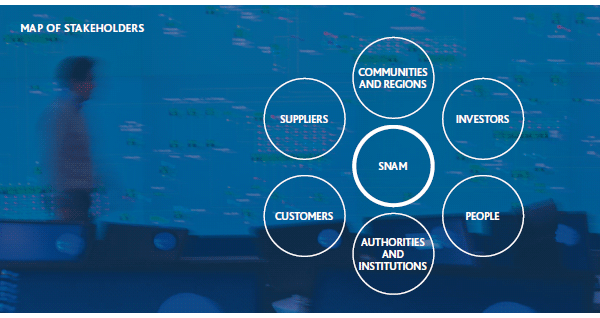 2012 STAKEHOLDERS' IDENTITY CARD
LA1-EC7
PEOPLE

Group staff: 6,051 (no)
Employees by activity (n.)
Distribution of employees by geographical area (n.)
SUPPLIERS

Total qualified suppliers: 5,016 (no)
Breakdown of procurement (%)
€1.4 billion
CUSTOMERS

Customers (No.)
COMMUNITIES AND REGIONS

Snam group - local sites per region (No.)
INVESTORS

Shareholders structure (%)
Shareholding geographical breakdown (%)
Enlarge image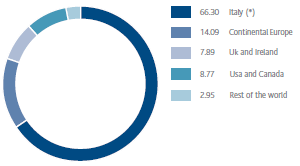 (*) The Italian percentile includes the total held by retail investors and treasury shares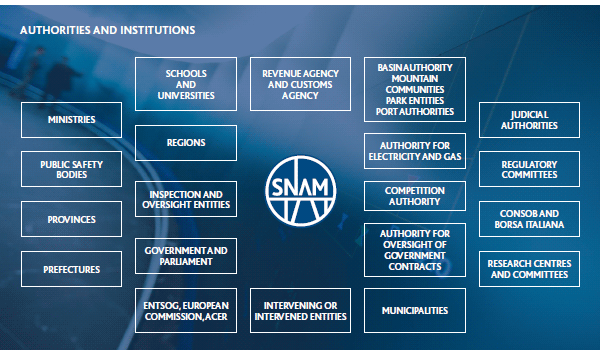 TOOLS FOR INVOLVING STAKEHOLDERS
Engagement tools

People

Institutional authorities

Communities and local areas

Customers

Suppliers

Investors

Website

Websites of all group companies with dedicated areas

Web areas

Corporate Intranet

Customer portals

Supplier portal

Institutional documents

Annual Report – Sustainability Report – Report on Corporate Governance and Remuneration –
Financial statements of controlled companies

Media relations

Press releases – Press conferences – Conferance calls - Interviews

Social Network

Information and News

Newsletter

Energy and special related issues

Objective Safety

Financial Report

Snam shareholder

News&Facts

Financial Markets
Review

Survey

Climate analysis

Customer satisfaction

Feedback questionnaires

Specal visits

Rating questionnaires

Meetings

Managers' meeting Cascade Project

Meeting with union bodies

Institutional presentations

Parliamentary and local hearings

Meetings with the AEEG

Meetings with local authorities

Meetings with trade associations

Participation in technical committees

Public meetings

Open municipal councils

Meetings with citizens

Workshops

Workshops

Exploratory meetings

Road shows

One to one meetings

Conference calls

Awareness-raising campaigns

Objective Safety project

Health project

Company volunteering

Ecologically

Clean up the world

Educational

Sustainable path series

Info points

Plant tours

Safety walk

Open days
DISTRIBUTION OF ADDED VALUE
In 2012, Snam distributed to its stakeholders an overall amount of €2,261 million, corresponding to the sum of the added value produced (€2,195 million) and the resources drawn by the Company system (€66 million).
Of this amount, 26.23% was distributed to the government (€593 million), 37.37% to shareholders (€845 million), 18.66% to employees (€422 million) and 17.74% to lenders (€401 million).
The net overall added value was therefore distributed among different beneficiaries as follows: (i) employees (direct compensation comprising salaries, wages and post-employment benefits, and indirect compensation consisting of social security expenses, as well as costs for staff services (meal services, travel expense reimbursement, etc.)); (ii) government (income tax); (iii) lenders (interest on loan capital disbursements); and (iv) shareholders (dividends distributed).
EC1
GLOBAL ADDED VALUE (€ MILLION)
2010

2011

2012

*

Net of costs allocated to investment.

Core business revenue

3,475

3,539

3,730

Other revenue and income

33

66

216

Purchases, services and sundry expenses*

596

631

760

Net financial expense

120

88

431

Net income from equity investments

47

51

55

Increases on internal works – Cost of work and financial expenses

89

90

91

Gross global added value

2,928

3,027

2,901

less - Amortisation, depreciation and impairment losses

678

654

706

Net global added value

2,250

2,373

2,195
BREAKDOWN OF ADDED VALUE (%)