Gross domestic gas consumption in Italy was 7.491 million standard cubic metres in 2012, down by 3.9% on the previous year. This decrease is due to lower consumption in the thermoelectric sector (-11.1%), offset only partly by higher consumption in the residential and tertiary sector (+1.2%).
PR1-PR3
Natural gas remains the most common energy source in Italy, partly due to the environmental benefits that it is capable of producing if used efficiently in the various sectors.
Snam is committed to supplying the gas that businesses and communities need on a daily basis and to safely managing all activities in the gas system, making available the operational capacity needed to satisfy market demands and granting access to all those who request it, under competitive conditions.
Against this background, service security, continuity and quality are intrinsically linked and represent a shared value.
SERVICE QUALITY
At the start of the 2012-2013 thermal year, Snam Rete Gas customers had 368 million cubic metres of transportation capacity at their disposal, and service access was guaranteed to all operators. The new entry point at Livorno, for which capacity is subject to the conferment request pursuant to Resolution 168/06 of the Electricity and Gas Authority and to the Ministry of Economic Development Decree of 24 November 2010, was also completed in the thermal year.
The process for defining all transportation capacities has been ISO 9001-certified since May 2001. This certification, which was renewed in 2012, shows Snam Rete Gas's continual commitment to developing proprietary software for modelling the network and solving the fluid-dynamics equations that regulate physical gas flows.
New upgrade work by Stogit increased storage capacity from 10.2 billion to 10.7 billion cubic metres (15.2 billion if strategic storage is included). This capacity was fully allocated by April 2012.
The network codes have a list of indicators for monitoring the quality of service provided by the companies. Customers are automatically compensated in the event of non-compliance with service quality standards in relation to some indicators concerning specific commercial quality levels.
Snams performance remained strong in 2012 with regard to these indicators: there was 99.4% compliance with standards in distribution and 100% compliance in transportation and other services.
Effective as of 1 December 2011, the Electricity and Gas Authority has entrusted Snam Rete Gas, as Italy's biggest transportation company, with the important role of Balancing Supervisor as part of the regulation of transportation, dispatching and storage services. More details can be found in the Annual Report.
PERCEIVED QUALITY
PR5
With a view to constant improvement, our service quality monitoring directly involves customers in a continuing and increasingly extensive way. The customer satisfaction survey is conducted every year for storage activities, measuring user's satisfaction levels concerning the clarity of the storage code, commercial management, and the availability and efficiency of IT services. Such surveys also gather suggestions from users aimed at improving the areas covered in the questionnaire.
The participation rate for the 2012 survey was 68%, up compared with approximately 52% in the previous year. The ratings, expressed on a scale from 0 to 10 and broken down into the respective macro areas of reference, showed substantial improvement in how the service we offer is perceived.
RESPONSES RECEIVED
BY THERMAL YEAR (%)

AVERAGE RESULT
BY THERMAL YEAR (N.)
First transportation customer satisfaction survey
Snam Rete Gas conducted its first transportation customer satisfaction survey in 2012. The questionnaire focused on comprehension of the network code, quality of services offered, balancing and degree of compliance of development initiatives with European guidelines.
The survey interviewed a sample of 133 people, with a 74% participation rate. On a scale of 0 to 5, it showed a more than satisfactory perception of the service offered, with interesting suggestions for improvement in the various macro areas.
As a specific example, 91% of those interviewed found Snam Rete Gas's activities as Balancing Supervisor to be more than satisfactory, while one of the suggestions for improvement was to clearly communicate forthcoming changes as a result of European regulation, of which only around half of respondents are aware.
EVALUATION OF SERVICES OFFERED BY SNAM RETE GAS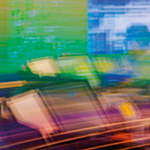 SIMPLIFYING COMMERCIAL PROCESSES
In a regulated market, not only is it important to be transparent, impartial and fair and to safeguard free competition in liberalised activities, it is also possible and advisable to improve service efficiency and simplify management of the activities, always in accordance with regulations, creating value for users and therefore, indirectly, for end customers in the gas system.
The IT systems which Snam has continued to develop to adopt new Electricity and Gas Authority measures and to improve application functionality are particularly important in this context.
We are constantly developing the online portals we use to manage relations with customers.
In 2012, the IT applications and related web interfaces with users of the transportation and storage portals were developed to improve management linked to the new balancing system, with a new reporting system also introduced enabling users to monitor key operating and economic parameters related to their own position in the Italian gas balancing system. Stogit is still involved in developing the IT systems pursuant to regulations issued recently by the Electricity and Gas Authority (Resolution 152, Consultation Document 82, Resolution 297).
In order to implement these changes – a process which is still evolving – Snam has adopted an approach aimed at involving customers, holding discussions with them and analysing their requests, partly based on positive talks with the Transportation Consultation Committee.
In 2012, the transportation segment conducted a feasibility study on the creation of an online portal to support the disconnection and opening of redelivery points on the transportation network. Starting in 2013, the portal will simplify related activities for users by using a single, clear channel of communication and monitoring request statuses in real time.
As part of the Default Transportation Supply Service, in 2012 Snam:
held a public call for tenders to select two users to provide the Default Transportation Service in accordance with Electricity and Gas Authority provisions;
started and finished the computerisation of activities related to this service, enabling the nominated users to fulfil the obligations laid down by the Electricity and Gas Authority in a straightforward manner thanks to the new functionalities available on the Capacity and M-Gas portals;
released a new IT platform to support gas transportation balancing and scheduling processes. This will be available by the end of the first half of 2014, guaranteeing better system reliability and performance as well as flexibility and scalability in introducing new requirements, such as those arising from changes to European regulation (MWh, nomination cycles, new communication protocols).
In accordance with the storage code, the Stogit Capacity portal, which covers all exchanges of information between Stogit and its customers, has been enriched by the implementation of the invoice portal, allowing users to check their payable invoices online. SAMPEI (Stogits system of allocation and measurement for gas withdrawal and injection) has been amended for the management of contracts with industrial users to adopt Legislative Decree 130/10 and the new natural gas balancing system pursuant to Resolution 45/11 of the Electricity and Gas Authority.
In order to meet in a timely manner the demands of end customers who take out new gas supply contracts with sales companies, Italgas has released an interactive website for "online checking". The site helps new customers to fulfil the requirements of Resolution 40/04 of the Electricity and Gas Authority concerning verification of plant safety, making it easier and quicker to send documents than the traditional paper-based methods. The system also enables real-time monitoring of the document verification processes and online submission of any documents required to complete the process and therefore to activate supply.
Snam Rete Gas joins the ownership structure of PRISMA
With the European network code on capacity allocation mechanisms (the CAM Network Code) due to come into force by 2015, and with a view to encouraging the harmonisation of service provision and access rules, Snam Rete Gas – together with 19 other transportation operators from seven European countries – is a member of the international project which led to the creation of a single company dedicated to the development and management of a common IT platform (PRISMA European Capacity Platform) for allocating capacity at interconnection points.
Transportation capacity should be available on this platform from April 2013 for short-term products, with the full set of products defined by the CAM Network Code rolled out at a later date.
Snam Rete Gas is simultaneously implementing management of new day-ahead gas transportation capacity nomination windows on the AltraWEB platform.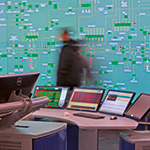 BUSINESS CONTINUITY
Crisis management was one of Snam's priorities in 2012. The Company has established a new policy specifically for guiding business continuity management. The aim of this process, particularly in light of the new organisational structure, is to improve the Company's ability to react to emergencies and the resilience of its core activities, enabling business continuity in the face of events that may interrupt business processes or make them unavailable.
The business continuity management policy, which is managed at group level and applied directly to all subsidiaries, can be viewed at:
Snam: Politica di business continuity management
In accordance with the security management system guidelines and policy, Snam has also established a crisis management model, which consists of all rules and methods for declaring and managing events which may lead to a crisis.
Infrastructure safety: earthquakes in Emilia-Romagna and drill programmes
The two strong earthquakes in Emilia-Romagna in May 2012, which severely affected both the local population and businesses in the region, also affected some Snam Rete Gas infrastructure, namely the transportation network maintenance centres at Bondeno and Bologna, and the compression station at Poggio Renatico. Snam Rete Gas's dispatching centre at San Donato Milanese asked emergency-service technicians to run checks on the transportation network. These checks found no faults at the plants, and there was no service interruption on the gas transportation network. There was also no interruption to service at the Minerbio and Sabbioncello storage centres, which were more than 50 km from the epicentre of the earthquakes and were therefore only marginally affected. There was no damage to the infrastructure, as verified by on-site inspections, or to the storage field, as evidenced by the continuous normal gas injection pressures.
In order to test Snam Rete Gas's response system, several national, regional and provincial drills were staged in 2012. In December 2012, Snam Rete Gas took part in a national drill simulating an earthquake in the Basilicata region, organised and managed by the central civil protection department in Rome. The Company's Dispatching units, Stations, SECUR and GEST units took part, working with one another and with the other entities/companies involved in the drill.
In November 2012, Snam's Dispatching and SECUR units took part in drill staged by the Lombardy Region simulating a snow emergency, interacting and exchanging information with the other entities/companies involved in the drill.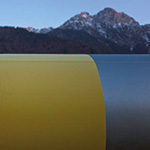 NETWORK OVERSIGHT AND MAINTENANCE
During a normal year, plants and pipes periodically undergo inspections and maintenance operations.
In the transportation segment, for example, the course of the pipelines is inspected regularly on foot, by land vehicles and by helicopter flyovers to detect potentially dangerous situations caused, for example, by third-party work near the pipelines. Similarly, any landslides at specific points in the course are kept under control. The integrity of the pipes is also monitored by inserting intelligent devices inside them to detect any defects (intelligent pigs).
TRANSPORTATION CONTROLS AND INSPECTIONS
| | | | |
| --- | --- | --- | --- |
| | 2010 | 2011 | 2012 |
| Network inspected with intelligent pigs (km) | 1,214 | 1,145 | 2,098 |
| Network inspected with helicopter flyovers (km) | >14,100 | >14,100 | >15,000 |
The 11 gas compression stations situated along the 32,000 km of pipeline network are controlled directly by the recently renovated dispatching unit at San Donato Milanese, which is responsible for ensuring that pressure levels are sufficient to meet demand.
The dispatching unit is a strategic infrastructure that manages gas flows in the national transportation network: its 24/7 operations room monitors and remotely controls the main pipelines and the compression stations of the Italian gas system. A 46-square-metre video wall gives operators an overview of the national gas transportation network, showing the major points of interest and related information.
The dispatching unit regulates and controls the national gas transportation system to ensure that it functions safely, reliably and efficiently, and it also oversees balancing on the basis of actual gas demand, which can fluctuate significantly on a daily and seasonal basis.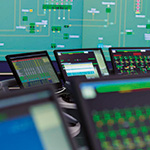 The new dispatching unit at San Donato Milanese
Snams dispatching unit, which turned 50 in 2012, has been completely overhauled in terms of both its offices and the technological infrastructure that allows it to function.
The new technological infrastructure is the result of intensive work that included, among other things, the digitalisation of the telemetry network of more than 12,000 km, the integration of satellite technology, the creation of a new operations room and the replacement of the data processing and control system, which is at the very heart of dispatching.
The new dispatching unit will enable the operations room to work better with maintenance teams on the ground, as well as enabling better management of key transportation data.
It will also ensure service continuity for Stogit's operations room in Crema, thereby enabling both Snam Rete Gas and Stogit's dispatching units to respond better to emergencies in accordance with corporate business continuity and disaster recovery plans.
In distribution, Snam pays special attention to pressure regulation and reduction facilities such as at the "city gates", where natural gas from national pipelines is delivered, depressurised, preheated where appropriate and odorised for use in civilian and industrial equipment.
Road pipes are subject to regular scheduled replacements and/or upgrades which keep them properly maintained over time and able to guarantee user consumption. The controls involve measuring gas odorisation levels and searching for leaks. During 2012, Italgas performed inspections along 18,630 km of network and 8,446 odorisation controls.