DEVELOPING SKILLS AND ABILITIES
In maximising the potential of Snam's people, a key role has been assumed by the development and strengthening of the system of occupational skills and managerial abilities in harmony with the changing scenario.
Over time, Snam has developed its own repertoire of abilities/skills and a set of indicators for assessing potential. These components, integrated in the performance assessment process, enable people to be assisted in an ongoing development process that already starts in the selection phase. Training, besides playing the traditional role of developing abilities and skills, has been extended as a tool in support of paths to organisational integration and change management to make ever more participants aware of and responsible for corporate strategies and targets.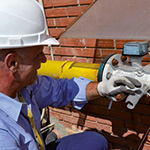 Therefore, during 2012 the methods of potential assessment were adapted to better reflect the attitudes and conduct that should characterise Snam's people and the training guidelines were redefined with the aim of strengthening specialist technical know-how and orientation towards the business and towards the organisational and market context. There has been a transition from the logic of training courses to a logic of training "paths", namely identifying mainly structured training activities that take place at the same time as the operational management of the activities where territorial HR functions are more greatly focused. Thus the training offered is differentiated by occupational category, partly depending on the specific area of responsibility.
Overall, in 2012 about 160,700 training hours were provided (of which 19% dedicated to sustainability issues, with particular reference to HSEQ issues) with about 15,640 participants, representing involvement by 83.9% of the corporate population. On average this came to 26.4 hours per employee (of which 13.6 hours/year for women and 28.1 hours/year for men).
LA10
TRAINING (No)
| | | | |
| --- | --- | --- | --- |
| | 2010 | 2011 | 2012 |
| Total hours provided | 148,824 | 187,134 | 160,771 |
| .. to Executives | 3,734 | 2,369 | 2,366 |
| .. to Managers | 13,358 | 13,840 | 15,841 |
| .. to Office Workers | 79,526 | 102,103 | 65,209 |
| .. to Manual Workers | 52,206 | 68,822 | 77,355 |
| Participants | 13,750 | 16,437 | 15,639 |
To follow up on the commitments made in prior years, the training Key Performance Indicators (KPI) have been confirmed for the 2012-2013 two-year period, pre-setting a quantitative target to be reached both in the provision of average hours per employee as well as in involvement by the personnel. The two targets pre-set for the year have been reached.
LA10
KEY PERFORMANCE INDICATORS (KPI)
KPI description

KPI date

Pre-set
target

Target achieved
in 2012

Sector

Activity Status

Average hours per employee (no)

2012

Reach 25 events for the 2012-2013 two-year period

26.4

Snam group

Involvement of corporate population (%)

2012

Reach 83 events for the 2012-2013 two-year period

83.9

Snam group
LA11
MAIN TRAINING INITIATIVES
| | | | |
| --- | --- | --- | --- |
| Description | Hours provided (no) | Participants (no) | Recipients |
| Joining company | 1,288 | 48 | Young, newly hired technical specialists |
| Training sessions to spread the HSEQ culture | 28,860 | 4,228 | Technical operating and office worker population |
| Training sessions to promote development of managerial abilities | 2,598 | 183 | Executives and managers |
| Training dedicated to maintenance of and know-how on technical systems | 104,669 | 7,666 | Technical operating and office worker population |
| Identifying and spreading operational best practices on hand at the company ("Peak Performer Model") | 4,192 | 260 | Operating managers |
| Specific workshops and seminars ("360° Outlook" Project) | 1,200 | 131 | Managers under 40 |
| Development of specialised skills of Human Resources | 9,555 | 2,334 | Office workers |
| Foreign languages | 6,141 | 194 | Executives, managers, office workers and technical specialists |
SO3-HR3
In 2012, training activities continued regarding the requirements of the Organisational Model pursuant to Legislative Decree 231 and anti-corruption. With regard to the latter, to supplement the training campaign conducted in 2011 those who were not able to take part in the previous programme were included. A total of 416 hours were provided, with 136 participants from among managers and executives.
In addition, 1,852 hours of training were provided on anti-trust, with 459 participants from among managers and executives.
360°OUTLOOK
Initiatives

Description of the initiative

Project

Managerial development programme started in 2012; aimed at a manager population under 40, the population range from which tomorrow's managers are likely to come.

Project goals

To provide skills for building productive relationships within the Company. To obtain tools, techniques and methods in various areas (from delegating to negotiating, from change management to the ability to listen and provide feedback).
Rethinking managerial style, from values to the vision that guides everyone's daily activities.

People involved

About 65 managers.

Project execution

Modular programme that each participant can construct and adapt to his or her own needs, alternating traditional training sessions with individual coaching meetings that include "experiential" training sessions.
MEUM Master's
In the context of the training and skills development programme, with the objective of injecting talented young resources into the corporate organisation, for six years Snam has offered its own sponsorship for an energy and environment Master's, Multiutilities Ambiente ed Energia.
Participants in this Master's have the opportunity to learn about Snam's business activities from classroom lectures by Company staff and specific educational modules.
As a result of Snam's cooperation over the years, it has been able to hire six young Master's participants, after a period of traineeship, recognising this excellent basic and specialised preparation and advantageous integration into the work environment.
In 2013 Snam also renewed its support for the Master's, which has been recognised as a University Master's, benefiting from a prestigious new partner – IULM (Libera Università di Lingue e Comunicazione) – to strengthen relationship and communication skills within the educational programme.
INCENTIVE AND REMUNERATION SYSTEMS
LA12
The remuneration system has been adjusted periodically using criteria based on meritocracy and internal fairness. This system is aimed particularly at ensuring recognition of the results achieved by an employee, the quality of professional support provided and the employee's development potentials. Also in 2012, a year of particular importance partly because of the change in equity control of the Company, the auditing and optimising of the competitiveness and fairness of compensation practices for managerial and professional personnel were completed.
For that purpose, a management review for managers is carried out each year, which enables accurate monitoring of their performance using consolidated and common criteria. Furthermore, an annual performance appraisal process is employed focusing on the contribution made and the results achieved by individual employees during the year.
In 2012, this appraisal event involved all executives, focusing on their commitment to developing business activities with particular attention to sustainability. This is demonstrated by assigning at least one individual goal linked to sustainability to positions of responsibility within the local operating area both for executives and managers.
In the 2011-2012 two-year period, the sustainability goals have been predominantly assigned within the scope of preventing workplace accidents. The assigned and achieved goals shown in the table refer to personnel (executives and managers in charge) in service at the time these are allocated.
TARGETS ASSIGNED TO SUSTAINABILITY ISSUES
2011

2012

Assigned (no)

Achieved (%)

Assigned (no)

Achieved (%)

Executives

116

100

116

100

Managers

118

100

125

100

Office workers

5

100

5

100
Alongside the policy of meritocracy, related to roles and responsibilities, a variable incentive system for managers and executives has been built up over the last few years in connection with performance appraisal through the allocation of specific individual tables derived from corporate tables.
A new incentive system is in the implementation phase for young graduates, aimed at supporting the motivation and retention of more talented young people by even more accentuated differentiation connected with performance, professional abilities and managerial potential.
We also continued our commitment to improve the system of benefits.
As in previous years, as part of our internal communication initiatives, we extended our Total Reward Statement (an itemised breakdown of an individuals overall pay packet) to all managers.
All jobs at Snam, Snam Rete Gas, GNL Italia and Stogit are subject to analytical and overall evaluation of complexity, responsibility, experience and autonomy (CREA) factors, as specified by the national collective labour agreement for the energy and petroleum industry. A total of 648 CREA evaluations were approved in 2012. All evaluation processes are formalised and involve feedback sessions that are an important opportunity for discussion and communication between the manager and the employee with a view to gathering information that can be used to draw up new actions for developing and maximising the potential of our people.
Lastly, a collective incentive programme is used for all group companies: the "Profit-sharing scheme", introduced pursuant to the respective national collective labour agreements. This scheme is based on Company profitability (ROACE) and productivity, as measured in relation to annual targets agreed between the Company and union representatives.