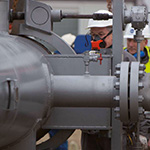 The commitment of the Snam group to ensuring the health and safety of its workers is embodied in the Health and Safety Policy, combining environment and quality. The responsibility for implementing the policy is shared by Snam's HSEQ unit, focusing on the functions of coordination and general direction for the entire group, and the HSEQ structures in the individual companies that have the tasks of specific guidance, coordination and support for the respective operating units.
In its principles on prevention and safeguarding, the policy acknowledges the primary values shared by the business and by society. Consistent with these principles, Snam believes that it is essential to be active both in cultural terms, to improve personal attitudes, conduct and responsibilities as well as in systemic terms, promoting the implementation of suitable and consistent management systems.
Therefore, in 2012 all of the initiatives and actions were continued along these lines, starting from the "Objective Safety" project. Now reaching the third year of activity, the project was started with the objective of reducing occupational accidents by strong involvement of individuals, so that safety awareness becomes a distinctive characteristic of anyone who works for Snam.
The Objective Safety Project will be renewed with the start-up of a new three-year plan which includes the initiatives already begun and new activities aimed at ongoing improvement.
LA8
"OBJECTIVE SAFETY" PROJECT
| | |
| --- | --- |
| Initiatives | Description of the initiative |
| Safety Trophy | This is competed for within each individual company by workers in operating areas subdivided into "homogeneous groups" by local area, which vie to achieve the best results in terms of workplace safety (number of accidents, severity, proposals for improvement, reporting of near misses, etc.). |
| Zero Accidents Award | An award given to all corporate organisational units. It offers prizes for all "homogeneous groups" who meet the goal of completing 365 consecutive days without an accident. |
| Safety Walk | Occasions in which top management, as active project sponsors, meet up with Snam personnel to shadow their operational activities on site, reiterating with their presence the importance of participatory involvement by all company staff to achieve effective workplace safety. |
Another important result achieved in the year is the OHSAS 18001 certification for Snam (former Snam Rete Gas certification) and subsidiaries Stogit and GNL Italia. With these certifications, all of the Snam units are now equipped with health and safety management systems developed in compliance with the internationally recognised standard.
ACCIDENT PREVENTION
The prevention of workplace accidents is a primary goal pursued through actions meant to eliminate or reduce risk factors characteristic of the work activities.
The in-depth analysis of accidents has the purpose of determining the causes of the event, identifying the appropriate corrective actions, implementing the technical-organisational and procedural improvements, and acting upon the behavioural styles of employees and third parties involved.
Improvement and prevention plans focused on reducing accidents have mainly involved articulated actions for informing the personnel and increasing their sensitivity so as to promote responsible actions consistent with corporate policy, adherence to operating and safety procedures and proper use and maintenance of work equipment and protective devices.
Also in 2012 these actions have enabled significant reductions in the employee accident indicator data, and various corporate units have succeeded in reaching or maintaining the target of zero accidents. Over the year there were 15 accidents (-32% compared with 2011), none of which were fatal. The frequency index was 1.51 (-32% compared to 2011) and the severity index was 0.06 as in the previous year.
LA10
HEALTH AND SAFETY TRAINING (No)
| | | |
| --- | --- | --- |
| | 2011 | 2012 |
| Hours provided | 28,563 | 26,959 |
| Participants | 4,452 | 4,062 |
LA7
A YEAR OF ZERO ACCIDENTS
| | |
| --- | --- |
| Company | Homogeneous groups |
| Snam Rete Gas | North District; Central Eastern District; South-eastern District, Sicily District. |
| Italgas | Turin site; North District; North-western District; Central District; South District, Sicily District. |
| Stogit | All companies. |
| GNL Italia | All companies. |
| Napoletanagas | All companies. |
ACCIDENTS AT WORK (No)
| | | | |
| --- | --- | --- | --- |
| | 2010 | 2011 | 2012 |
| Total employee accidents | 37 | 22 | 15 |
| Total contractor accidents | 74 | 78 | 27 |
EMPLOYEE ACCIDENTS AT WORK
FREQUENCY INDEX*

Enlarge image


* number of no-commuting accidents with incapacity of at least one day, per million hours worked


EMPLOYEE ACCIDENTS AT WORK
SEVERITY INDEX*

Enlarge image


** number of working days lost in relation to no-commuting accidents with incapacity of at least one day, per thousand hours worked
Ongoing research and the adopting of good corporate practices consistent with the change in regulatory, ethical and market contexts have, in recent years, represented the basis for the development of increasing progress, vis-à-vis suppliers as well, strengthening sensitivity orientated towards a proper handling of health and safety issues.
With regard to suppliers, quality standards similar to those adopted by the Snam group are required ever more often. With regard to safety in connection with contracted labour, special attention was paid to suppliers' qualifications and their subsequent evaluation through special inspections performed in the work execution phase.
Initiatives envisioned in 2012, such as the "My safety is your safety" workshop at Snam Rete Gas and the start of the Contractor's Safety Trophy at Italgas, have contributed to further developing the involvement and sensitivity of suppliers with regard to these issues, including the significance of safety indicators in supplier assessment and qualification criteria.

CONTRACTOR ACCIDENTS AT WORK
FREQUENCY INDEX*

Enlarge image


* number of no-commuting accidents with incapacity of at least one day, per million hours worked


CONTRACTOR ACCIDENTS AT WORK
SEVERITY INDEX*

Enlarge image


** number of working days lost in relation to no-commuting accidents with incapacity of at least one day, per thousand hours worked
A total of 27 accidents were recorded for contractors in 2012 (-65% compared with 2011). The frequency index is 4.27 (-51% compared with 2011) and the severity index is 0.29 (-15% compared with 2011).
Regarding the S. Stefano di Magra-Cortemaggiore methane pipeline incident, which occurred on 18 January 2012 in the Municipality of Tresana (MS), involving a rupture with gas leakage and a fire causing a fatal accident involving a worker of the company contracted for the work, it is pointed out that investigations by the Massa public prosecutor are still in progress.

"MY SAFETY IS YOUR SAFETY": SECOND SNAM RETE GAS WORKSHOP FOR SUPPLIERS
Making corporate know-how available with a network approach using a knowledge-sharing system to support suppliers on the path toward continuous improvement is one of the keys to generating Shared Value that may increase the Company's competitiveness. "My safety is your safety" is a workshop, organised in 2012 by Snam Rete Gas in Milan, intended for companies involved in work processes relating to infrastructure construction. The workshop is a chance for the company and its suppliers to meet and discuss the theme of worker safety and protection, which has always been a key part of Snam's policy.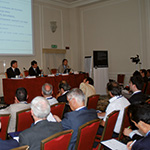 The event is part of a broader process of raising awareness among Snam's business partners: sharing best operating practices is the key to the process of continuously improving relations between buyer and supplier, through a safety partnership system that stresses joint analysis of the safety management process. The workshop is the second step in a process that began with Suppliers' Day for Sustainability, which took place in November 2011. On this occasion, a joint project was launched on sustainability themes, and a survey of suppliers was carried out on the same subject. The results of the survey, which were provided to the companies involved, gave more depth to the debate and led to the second workshop.
SAFEGUARDING HEALTH
Safeguarding workers' health is ensured by continual monitoring of the risks identified in the performance of work activities for corporate personnel. For workers exposed to special risks, appropriate prevention and protection measures have been supplemented with the performance of adequate regular health checks carried out by the competent doctor based on special health protocols defined according to the type of risk.
During the year, there were 3,208 medical visits (of which 2,636 were regular check-ups), 3,504 diagnostic exams and 190 laboratory tests.
Regular on-site inspections of work environments were carried out by the competent doctor and by the person in charge of the prevention and protection service to evaluate environmental conditions and possible prevention or improvement actions.
HEALTH MONITORING (No)
| | | | |
| --- | --- | --- | --- |
| | 2010 | 2011 | 2012 |
| Doctor's visits | 3,180 | 2,533 | 3,208 |
| Regular doctor's visits | 3,097 | 2,199 | 2,636 |
| Diagnostic exams | 3,934 | 2,027 | 3,504 |
| Environmental investigations | 357 | 401 | 272 |
| Occupational illnesses indicated | 0 | 0 | 0 |