Snam considers communication to be a fundamental driver for promoting personal participation, going beyond information to create awareness, sharing and debate.
Through an integrated approached to group-wide internal communications, while still respecting the different company needs, Snam shares values, challenges and goals, increasing the degree of employees' satisfaction in performing their activities.
Sharing values and principles, as well as projects and initiatives, takes place through numerous channels and tools.
INTERNAL COMMUNICATIONS ACTIVITIES
Tools/Initiatives

Description

Intranet

The group's intranet, "Energy", is structured not only as an information tool, but also as a place for sharing and developing knowledge. Specific sections are used to delve into current issues in depth, support initiatives and launch projects. During 2012 news and videos have been used as tools for immediately disseminating crucial points and highlighting significant events; for example, there were more than 50 news stories published online in 2012 putting the focus on topics connected with company operations and results, sustainability and workplace safety, as well as the future objectives of the Company, casting its gaze toward the European context.
The distinctive factor characterising the group intranet site is shared content management. In 2012 there was a preliminary update involving personnel-related services, today known as "Snam for you", a completely renovated section dedicated to company welfare topics.

Newsletters,
brochures,
posters,
flyers

In order to involve all personnel, including those difficult to reach with the computer network, Snam makes and uses paper tools. In particular, the Energy newsletter, sent to all of Snam's people, followed corporate and market developments in 2012, commenting on regulatory changes that open up new business and organisational scenarios. It has devoted even more space to special projects, events and initiatives that reflect the life of the company. The newsletter is sent to all employees' homes.

In 2012 publication of Speciali di Energie began, attached to the newsletter and aimed at more in-depth discussion of Snam group regulations, rules and procedures. The first edition was dedicated to the anti-trust rules and their implications on group activities and on the conduct of its people.

"Sapernedi+"

An initiative that disseminates corporate values and strategies and shares issues, problems and solutions identified by the individual organisational units. It is also an opportunity for increasing managers' managerial skills through a time for involvement and communication with their employees. Sapernedi+ was active between the summer and autumn of 2012 in all organisational units, with a "cascading" process that enabled all of Snam's people to be reached directly.

Executives' meetings

An occasion to reflect on the most significant events in business operations to ensure adequate information as well as constant involvement and assumption of responsibility in corporate objectives and strategies.

Dissemination of Legislative Decree Model 231

Model 231 was published on the corporate intranet for every company and posted on the corporate bulletin boards. Model 231 was also sent to all employees with a cover letter on behalf of the chairmen of the respective supervisory bodies, reiterating the importance of the content of the document and exhorting people to take inspiration for their day-to-day operational activities from the principles set forth therein.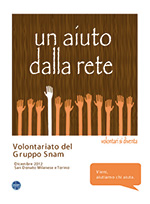 Company volunteering
For the second consecutive year, the Snam group has carried out a volunteering initiative that envisions involvement by its people through activities which support the non-profit sector and through renewal of the cooperation with CESVI. Active in 31 countries worldwide, the mission of this Italian NGO is to fight poverty through qualified development programmes and efforts based on active solidarity in various areas: the fight against malaria and AIDS, children, water and health, emergencies and rehabilitation, and sustainable development.
The 2012 volunteering initiative included Snam's support of "Stop Child Labour", a CESVI project to fight the exploitation of child labour in Kenya with involvement from the authorities, businesses and youth of that country.
"Help from the network 2012" was held in San Donato Milanese and Turin in December, made up of various participatory events with laboratory activities and sales of used goods in which numerous colleagues from Italgas, Snam and Snam Rete Gas chose to volunteer some hours of their work day at corporate sites and with corporate support.
All of the proceeds of the work of the volunteers and co-workers' generosity were given to CESVI to actively contribute to financing the Kenyan project.
Also in 2012, following the earthquake in Emilia Romagna, employees contributed about 600 work hours of remuneration to those affected.